District of Cacophony: 2007 – 2011
A showblog/journal/diary, mainly taking place in Washington, DC
"How do they see when there is no light?"
"They live by night, they live, they live by night!"

"Where do they go, and when do they sleep?"
"They live by night, they live, they live with me!"
I spent a big chunk of my young adulthood haunting dark rock clubs. I would send email alerts to groups of friends, inviting them to join me at some dingy venue for a late-night show by obscure bands. Full credit to my friends: sometimes they would accept those invites! At a certain point in 2007 I thought maybe I should make a record of those invitations, and I bashed together a WordPress blog on a domain that I owned but wasn't using. After switching titles a bunch of times, the blog that emerged at http://theobscurist.com/muzyka/ evolved into something like a live music review site, leaning heavily on YouTube and Flickr content that helped keep those performances fresh in my mind.
I let it lapse sometimes, posted regularly at other times, kept some text documents in a Dropbox folder with notes, used Google Calendar and Google Docs for the first time to try to embed some sidebar content. It was pretty cool!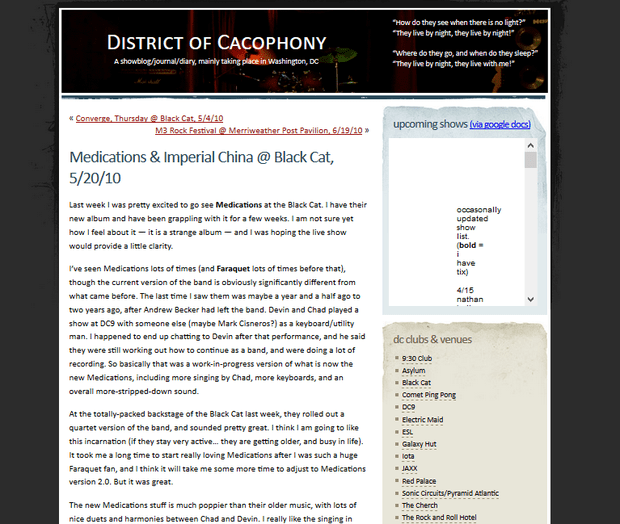 The Wordpress site used a modified version of a free theme called I Feel Dirty that I gradually hacked up to feature a photo of the stage of then-active rock venue The Red and The Black from a barely-remembered night when I graced that stage myself. Every now and then someone from one of the bands covered contacted me or at least noticed the site, though I surely didn't publicize it. This is how I ended up doing one lone album review for the pretty great DC band Imperial China.
Now, looking back on these days, I feel pretty pleased with my younger self and the insights and experiences I had. My opinions about the music and bands have stayed about the same. It would be awesome if my life was less busy and I could still spend my nights "closing the clubs and haunting the cabarets" as a Magnetic Fields song puts it. Maybe again someday! Above all, I never felt like this was a waste of my time, and absolutely still don't. They were good days.
On archiving this site
While consolidating my overall web presence and shutting down WordPress installations, I archived District of Cacophony in April, 2017. More details are forthcoming as I will eventually write up my methodology.
Table of Contents
Here is the list of all the posts published in District of Cacophony. Some of the content (particularly audio files) still needs to be cleaned up but all the text should be intact. Happy digging!
| Date | Title | Tags |
| --- | --- | --- |
| January 13, 2011 | Grant Hart @ Black Cat, 1/13/11 | grant hart |
| January 11, 2011 | 2010 reviewed | year end review |
| January 10, 2011 | Jayme Stone @ Millennium Stage, 1/10/11 | jayme stone |
| January 3, 2011 | Rockin' new year | |
| December 30, 2010 | Gogol Bordello @ 930 Club, 12/30/10 | gogol bordello, man man |
| December 10, 2010 | Imperial China, Ra Ra Rasputin @ Rock & Roll Hotel, 12/10/10 | mon khmer, ra ra rasputin, imperial china |
| November 16, 2010 | Grinderman @ 930 Club, 11/16/10 | grinderman, nick cave |
| November 10, 2010 | The Blow @ Black Cat, 11/10/10 | the blow |
| October 29, 2010 | Corin Tucker Band, Hungry Ghost @ Black Cat, 10/29/10 | corin tucker band, hungry ghost |
| October 15, 2010 | Isobel Campbell & Mark Lanegan @ Rock 'n Roll Hotel, 10/15/10 | mark lanegan, willy mason, isobel campbell |
| September 23, 2010 | Caribou, Emeralds @ Black Cat, 9/23/10 | emeralds, caribou |
| September 18, 2010 | H.R. @ H Street Festival, 9/18/10 | h.r. |
| August 30, 2010 | Bare Wires @ Velvet Lounge, 8/30/10 | gestapo khazi, bare wires, maybe baby |
| August 6, 2010 | Arcade Fire @ Merriweather Post Pavilion, 8/6/10 | arcade fire, spoon |
| July 23, 2010 | Cap'n Jazz @ Black Cat, 7/23/10 | gauge, cap'n jazz |
| July 22, 2010 | Medications @ U Street Music Hall, 7/22/10 | deleted scenes, medications |
| July 10, 2010 | Teenbeat 26th Anniversary Show @ Black Cat, 7/10/10 | jonny cohen, the rondelles, teenbeat, unrest, versus |
| July 1, 2010 | Sleeper Agent!, Gangland Buries Its Own @ Fort Reno, 7/1/10 | sleeper agent!, gangland buries its own |
| June 30, 2010 | Lightning Bolt @ DC9, 6/30/10 | lightning bolt, macaw, buildings |
| June 26, 2010 | Cornel West Theory @ DC Photo Co-op, 6/26/10 | the cornel west theory |
| June 25, 2010 | Tinariwen @ 930 Club, 6/25/10 | tinariwen |
| June 19, 2010 | M3 Rock Festival @ Merriweather Post Pavilion, 6/19/10 | bang tango, cinderella, dizzy reed, kix, vince neil, scorpions |
| May 20, 2010 | Medications & Imperial China @ Black Cat, 5/20/10 | imperial china, medications |
| May 4, 2010 | Converge, Thursday @ Black Cat, 5/4/10 | converge, thursday |
| April 24, 2010 | Quasi @ Black Cat, 4/24/10 | let's wrestle, quasi |
| April 22, 2010 | The Points, Davey Crockett @ DC9, 4/22/10 | davey crockett, the points |
| April 9, 2010 | Ted Leo/Pharmacists, Obits @ 930 Club, 4/9/10 | ted leo, obits |
| April 7, 2010 | Serena-Maneesh @ DC9, 4/7/10 | serena-maneesh |
| March 29, 2010 | Japandroids @ Rock 'n Roll Hotel, 3/29/10 | love is all, japandroids |
| March 28, 2010 | The xx @ 6th & I Synagogue, 3/28/10 | the xx |
| March 13, 2010 | Midnight Kids & Casper Bangs @ Black Cat, 3/13/10 | midnight kids, casper bangs |
| March 12, 2010 | Balkan Beat Box @ 930 Club, 3/12/10 | balkan beat box |
| March 3, 2010 | Happy Hollows, The Mantis, America Hearts @ Black Cat, 3/3/10 | mantis, america hearts, happy hollows |
| February 23, 2010 | The Clientele @ Black Cat, 2/23/10 | the clientele, vetiver |
| February 12, 2010 | Wanda Jackson @ Black Cat, 2/12/10 | wanda jackson |
| January 22, 2010 | Sockets Showcase @ Black Cat, 1/22/10 | the cornel west theory, hume, sockets, buildings, big gold belt, imperial china |
| January 21, 2010 | Imperial China : Phosphenes | imperial china |
| January 21, 2010 | Sockets showcase tomorrow night! | sockets |
| January 6, 2010 | Movin' On Up: Shows of the year 2009, &c. | primal scream, year end review |
| December 12, 2009 | Versus & Soft Power @ Black Cat, 12/12/09 | versus, soft power, mary timony |
| December 3, 2009 | Russian Circles @ DC9, 12/3/09 | young widows, russian circles |
| December 1, 2009 | Pixies @ DAR Constitution Hall, 12/1/09 | pixies |
| November 8, 2009 | Amy Millan @ DC9, 11/8/09 | amy millan, bahamas |
| November 4, 2009 | Fuck Buttons @ DC9, 11/4/09 | growing, fuck buttons |
| October 30, 2009 | Office of Future Plans @ Rock and Roll Hotel, 10/30/09 | office of future plans, caverns, imperial china |
| October 28, 2009 | Pinback & Obits @ Black Cat, 10/28/09 | pinback, obits |
| October 16, 2009 | The Raveonettes @ 930 Club, 10/16/09 | the raveonettes, black angels |
| October 13, 2009 | Phosphorescent @ Black Cat, 10/13/09 | phosphorescent |
| September 24, 2009 | Buildings @ Haydee's, 9/24/09 | make a rising, buildings |
| September 12, 2009 | S PRCSS @ Black Cat, 9/12/09 | hume, s prcss |
| September 10, 2009 | In between days | hume, janel and anthony, acid rays |
| September 8, 2009 | Motörhead, Reverend Horton Heat, Nashville Pussy @ 930 Club, 9/8/09 | nashville pussy, reverend horton heat, motörhead |
| August 22, 2009 | Judas Priest w/Kix, Merriweather Post Pavilion, 8/22/09 | judas priest, kix |
| August 5, 2009 | Los Campesinos! w/ Girls @ 930 Club, 8/5/09 | los campesinos!, girls |
| August 3, 2009 | Mogwai @ 930 Club, 8/3/09 | mogwai |
| August 3, 2009 | Run for Cover '09 | run for cover |
| July 30, 2009 | M. Ward @ 930 Club, 7/30/09 | m. ward, chain and the gang, ian svenonius |
| July 9, 2009 | Imperial China @ Fort Reno, 7/9/09 | imperial china |
| July 6, 2009 | Sonic Youth @ 930 Club, 7/6/09 | sonic youth |
| July 2, 2009 | Judas Priest @ Milwaukee Summerfest, 7/2/09 | judas priest, brothers burn mountain |
| June 27, 2009 | S PRCSS @ Comet Ping Pong, 6/27/09 | enon, s prcss |
| June 20, 2009 | Frodus & The Van Pelt, Black Cat, 6/20/09 | the van pelt, frodus |
| June 17, 2009 | Double Dagger @ Crooked Beat, 6/17/09 | double dagger |
| June 9, 2009 | Jane's Addiction/Nine Inch Nails @ Merriweather, 6/9/09 | nine inch nails, jane's addiction |
| June 6, 2009 | Denali @ Black Cat, 6/6/09 | denali |
| June 5, 2009 | Dean and Britta @ Black Cat, 6/5/09 | dean and britta |
| June 5, 2009 | John Parish and PJ Harvey, Warner Theatre, 6/5/09 | john parish, pj harvey |
| May 12, 2009 | just gimme experimental music | janel and anthony, black snake in the daisy patch |
| April 30, 2009 | The Kills & The Horrors, 930 Club, 4/30/09 | the horrors, the kills |
| April 20, 2009 | The Foundry Field Recordings @ The Red and the Black, 4/20/09 | bald eagle, foundry field recordings |
| April 19, 2009 | Flaming Lips @ Earth Day Green Apple Festival, National Mall, 4/19/09 | the flaming lips |
| April 17, 2009 | Thao and the Get Down Stay Down, Black Cat, 4/17/09 | thao and the get down stay down |
| April 11, 2009 | Beirut @ 6th & I, 4/11/09 | beirut |
| April 5, 2009 | Obits & The Points @ Black Cat, 4/5/09 | obits, the points |
| November 15, 2007 | Reunions breakin' out all over | |
| September 18, 2007 | Whoah! | |
| July 17, 2007 | Summery | les savy fav, tortoise, mary timony, medications |
| July 5, 2007 | Treading water | joe lally, dc improvisers collective, wilco, the evens, the national |
| June 19, 2007 | Getting behind | deleted scenes, arcade fire, mass movement of the moth, mono, andrew bird, world's end girlfriend, grails |
| May 7, 2007 | Nostalgia will lead me away | the dismemberment plan |
| April 25, 2007 | and then there's this | |
| April 25, 2007 | Death in April | made out of babies |
| April 25, 2007 | Life in planes | |
| April 19, 2007 | The ones that got away | |
| April 11, 2007 | Degrees of separation (The Aquarium, The Cassettes, Benjy Ferree at the Black Cat) | the aquarium, the cassettes, benjy ferree |
| April 11, 2007 | Rocking the caps lock : mid-April shows | |
| April 5, 2007 | Ted Leo/Rx @ the 930 Club | ted leo |
| April 5, 2007 | Things to do in DC when you're dead (April shows part 1) | |
| April 3, 2007 | Zone Doubt: Sebadoh at the 930, 4/3/07 | sebadoh |
| March 27, 2007 | The haps | |
| March 27, 2007 | The story so far | the raveonettes, red sparowes, william elliott whitmore, camera obscura |