A few weeks back a friend and I decided at the last moment to go to the "M3" Festival (what does it stand for? We didn't know, or really care). I was sucked into it by the line-up of '80s metal/hard rock bands that I loved in middle school years. Some of those bands I still love! Some, less so. It promised to be a good mix of both.
We didn't rush — it was a hot summer afternoon, and beer was destined to be consumed, so it seemed prudent to take it easy. This meant that we missed a lot of the early bands, like Trixter and L.A. Guns. We were in the parking lot eating Subway sandwiches and drinking beers while Winger was tearing up the crowd. I can live with being that close to Winger and never catching a glimpse.
But I was pleased that we managed to catch Bang Tango on the second stage. They are one of those bands I never knew very well, but liked. My older brother was all into Bang Tango, and I can remember him driving around with their tapes blasting, circa 1990. They put on a good show.
Here they are playing "Ready to Go":

But my favorite moment of the performance was spotting this chick with a Queensrÿche tattoo! How awesome is this??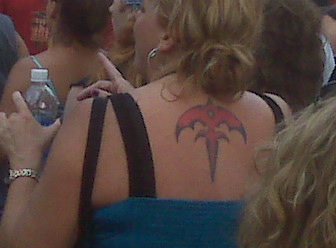 My head was still reeling a little from the Queensrÿche tattoo when, after Bang Tango, we wandered to the mainstage to see Kix. After decades of never getting around to seeing Kix, the biggest semi-hometown band of my youth, this was my second time seeing them in the past year. Last time, I was full of complex, ambivalent feelings. This time I was more willing to just enjoy them for being a silly, great rock band. They are not a band that you should spend a whole lot of time projecting personal Angst upon.
They looked about the same as last time, Steve Whiteman ugly as sin, the band totally rocking the joint. Here you can check them out doing one of their best songs, "Cold Blood" (I was singing along):
Having enough of the Kix experience (they played a pretty long set), we left during the last song (the one I dislike, "Yeah Yeah Yeah") to go back to the other stage and check out Dizzy Reed.
I have never listened to any of Dizzy's solo stuff, but I have long admired the name of his solo band, Hookers N' Blow. He put on a pretty great set, playing covers and who-knows-what-else; there were a couple of Guns N' Roses songs thrown in. He actually sounds quite a bit like Axl Rose. This was a fun performance, and from the stage banter, it seemed like the band was just sort of thrown together. I would go see Dizzy at a club sometime. I kinda want to go to L.A. and hang out with him.
Dizzy Reed – "Cheers to Oblivion" :
After Dizzy's set, we moved to the mainstage and abandoned the back-and-forth action (meaning we missed Warrant). Up next was Vince Neil, who put on one of the more baffling performances I've ever seen. I really like Mötley Crüe, or anyway I like the idea of Mötley Crüe. They seemed to occupy a sweet spot in the '80s hard rock hierarchy — heavy enough to seem semi-tough, but with plenty of chick appeal via all the ballads. But then sometimes I wonder if they aren't just another party rock band like Poison. So much philosophical debate!
Anyway I was sort of interested to see what Vince Neil would do, I was assuming it would be a Crüe greatest hits sort of show. And it seemed that way at first. His band was awesome, but Vince Neil himself was awful. He ran around, sang intermittently, and then — weirdest of all — wandered off-stage for like 10 or 15 minutes at one point. The band seemed to be covering up, playing a Zeppelin medley where the guitarist proved to be a better singer than Neil himself. I was sort of thinking — hoping? — that Vince Neil had disappeared, perhaps in a helicopter heading home sweet home. But he eventually wandered back onto the stage, sang some Zeppelin himself, and finished the show. How odd! It was like a week afterwards that he made the news for getting arrested for drunk driving.
Anyway here is Vince doing a Crüe hit:
After Vince Neil's set, while we sat and skipped the Warrant performance in the background, was one of the weirder moments of the night. As background music over the speakers, somebody put on the first Burning Airlines record, and played almost the whole thing. Amusing! I wonder what sort of statement that staffperson was making. Maybe it was "these bands rock, and so does J. Robbins!" I would like to hope so, anyway it was funny and incongruous and I enjoyed listening. Thanks, IMP Productions employee!
After Mission: Control! was turned off, we got to see the awesomest performance of the night: Cinderella!
I've always liked Cinderella, and one of the first few CDs I ever bought was by them. I haven't listened to them in ages and ages, though, and I have learned an awful lot more about music in the intervening couple of decades. So it was fun to listen to them, and relive my adolescence a bit, and figure out what I think of this band nowadays.
Obviously, they are a bit past their prime, but they really sounded pretty good and energetic. They started off sounding pretty metal — in the vein of Judas Priest almost. But gradually they eased into just plain ole' rock and roll, the same kind played by a lot of great bands through the years, from the Black Crowes to the Rolling Stones. This is a great style — hard rock, slightly metal-inflected, mixed with Stones-y swagger. Guns N' Roses did something similar from time to time, but I kind of think Cinderella have a more interesting take on it. Really good stuff. Also Tom Keifer turned out to be a good musician rather than just a frontman, it helped put Vince Neil's earlier performance to shame, playing guitar and piano and saxophone (!).
Here's "Nobody's Fool" which is of course a great song, though maybe not typical:
Cinderella was a hard act to follow and I am not sure the Scorpions were up to the challenge. I really like the Scorpions but they came on late (there were all kinds of technical problems in getting them onstage) and the crowd was getting restless. Klaus Meine was sick (though you couldn't really tell from his voice). Many folks had been out in the hot sun for like 10 hours, and were itching to go beat traffic.
Even I was feeling a little worn out, though I totally wanted to be attentive. This was supposedly a farewell tour for the ancient Germans.
Probably the coolest thing about the Scorpions' performance was their sheer attitude. These guys aren't screwin' around, they are acting like a right proper metal band. A Teutonic metal band! They had a ridiculous pneumatic drum riser thing straight out of a Spinal Tap performance, they all wore black leather. Super sweet. At a certain point, Vince Neil came out to join them for a song (why??) and the contrast was ridiculous, with Vince basically looking like a slovenly Jimmy Buffett in comparison.
The performance was pretty good, and fun. Great rock band. But I think they might have been better served headlining a more reasonable show, not a ridiculous all-day festival. If it had just been Scorps and Cinderella it would've totally roooled.
Here they are doing one of my old favorites, "Holiday." Funny, with the Scorpions I almost like their ballads better than their rockers (not "Wind of Change" though).