Ted Leo on 3/30 was pretty rocking.
I have been a fan since the old days, and the last time I saw Ted was at Operation : Ceasefire, a huge antiwar rally a couple years ago, and I didn't really enjoy it. That was my first Ted Leo concert in several years, since before I left the country in 2002, and in the meantime he had gained a whole new contingent of fans who were a lot younger. Which is fine. But weird. And it annoyed me at the protest, because there were speakers talking about the war and the teenagers around me were shouting out "Ted Leo!!!!" instead of listening. And there were old folks there, little old ladies and such, who were there for the anti-war rally but the pumped-up Ted Leo fans were like, "who cares about them, it's a punk show!". Damn kids today… Anyhow I am sure the vast majority of his high school/MySpace fan club are great people, but I was a little leery of going to see him last week at the 930 because it seemed like he has gotten too popular and it just wouldn't be the same as the old days when he was gigging at places like Fort Reno and DCCD.
However Ted and the Pharmacists were really awesome. I am surprised there are no youtube videos for the show — it seems like every sold-out concert is guaranteed to be on youtube these days — but you can listen to the whole show at NPR. And I found lots of reviews of the concert, so I don't have to add my own. Suffice it to say that I liked it a lot.
And, as I was hoping/expecting, they closed with "Rappaport's Testament". Perfect.
Great flickr pictures abound, by the likes of: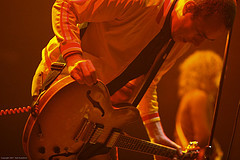 Leafblower
and the semi-official NPR ones by Joel Didreksen: