Caught a few good shows in the past couple weeks: Tortoise at the Black Cat, Mary Timony and Medications at Fort Reno, Les Savy Fav on a quick weekend trip to New York (though 99% of the music I see is here in DC, I'll go ahead and comment on any out-of-town shows I catch). Some good shows are coming up this week, too, with the highlights being Drive-By Truckers on Friday at the 930 Club and Mirah on Saturday at the Black Cat — but I might be out of town again for the Mirah show, alas.
Tortoise played on Saturday night, July 7, and it was the fulfillment of my nine-year mission to see this band perform live. Was it worth the wait? Sure, I guess. I have liked Tortoise for a long time indeed, but I'm not obsessive about them or anything. I really enjoy the two albums of theirs I have (Millions Now Living Will Never Die and Standards) but haven't really felt the need to get more. But in 1998 I was spending a semester in southwestern Germany and missing live music and clubs in DC, and there was this German kid named Nico who lived on the floor of my dorm who listened to American indie rock and stuff. At some point he invited me to go see Tortoise, who were playing somewhere in Baden-Württemberg that was not really accessible to car-less Americans, and I was excited to go, but in those days before cell phones (or "Handys" as the Germans call them) we never quite managed to figure out the logistics and I ended up missing the trip to see Tortoise. So for almost a decade I harbored a very mild regret.
Well at long last I got to see Tortoise and they were a lot of fun; I repeatedly found myself describing them as "very chill." I was pleased that I knew a lot of the songs from the two albums I have, and I was impressed by the fact that the band seemed to be having so much fun on stage. I think their style of music — wacky time signatures, fitful starts and stops, unusual numbers of repetitions — would be fun to play, with entire concerts turning into a challenge of remembering what comes next. I also was digging the great percussion and the occasional use of the two-drummers-at-once technique. Great show.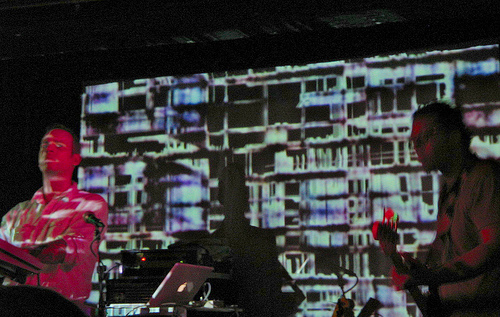 On Thursday (July 12) was the Mary Timony Band/Medications show. Another lovely night at Fort Reno, with perfect weather, and an interesting pair of performances. I am a huge fan of both of these bands and have seen them both play a number of times so it was mostly a chance to admire the setting and relax to good music. As it turned out, the sound system was screwed up but the actual sound mix of the show was quite good. The openers, The Charm Offensive, were decent enough, a sort of garage-rock band, but I was most excited to see Medications.
Medications played a very solid show, though sort of subdued compared to other times I've seen them. At times I sat and watched in awe, because this band is so spot on, so damn in sync. I sent out an email inviting people to the show and said that they were one of the most talented DC bands ever, and I totally stand by that.
The relatively restrained performance might have been because Chad and Devin had to save up energy for their performance with Mary Timony, but her performance was pretty mellow too. But really good. She played almost all songs from her excellent new album, and occasionally they wandered pretty far into jammin' prog-rock territory, but in a very cool way. There is a write-up of the show on the City Paper's music blog comparing the performance to Yes, but my friends and I were comparing it to Rush. But I like Yes and Rush, so I was pleased. They faded out to a nice spacey song, "Pink Clouds," as the last bit of sunlight disappeared and ended an almost perfect Fort Reno night…
Check out Mary Timony's video for "Sharpshooter" (I love the lyrics to this song but the video is kind of cheesy…):
Finally, Les Savy Fav. Well this is another band I've wanted to see forever, and while the show was totally good, the moral of my Les Savy Fav show is that you shouldn't go see bands you love for the first time at a solar-powered show. They were performing at this thing called citysol that turned out to be interesting in many ways, but not conducive to decent sound quality. So it was more like a sample platter of LSF — when I see them in a club someday it will still kinda be my first time….
Anyhow I had seen some clips of them before, and I have the DVD that came with their Inches album, so I knew they were gonna be all crazy. And they were. And it was awesome but the poor sound made it less awesome than it deserved. That was fine, it was still way fun; I was left a little disappointed but still convinced that they are one of the greatest bands around today. Also one of my friends and I got to compare and contrast Tim Harrington with Lungfish's Dan Higgs.
Here's a gothamist take on the show, some rad flickr photos, and a couple of video clips caught on cell phones and such:
Oh and finally a quick postscript: I was out of town (a recurring theme this summer) and missed the Black Cat's annual Run For Cover event, but I heard it was great, and a friend sent me this link of highlights. Seems like I missed another great show.