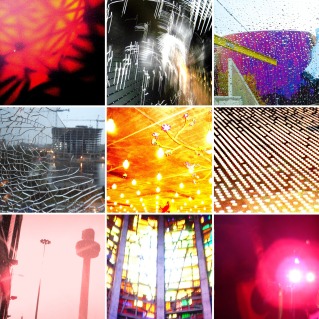 Of all the DC bands I've paid attention to over the years, Imperial China is my least-favorite name since Q and Not U (whose name I have complained about publically here). Much like their unfortunately-appellated predecessors, the band-name turn-off kept me from checking out Imperial China for a long time, though I started to hear things about them a while ago. I finally caught them live last summer, and in a way I'm sorry to have missed out on them over the past couple of years — but based on Phosphenes I don't have to really worry about it, because they seem like a band that is just starting to gel.
Here's the thing about the album (coming out in February via Sockets/Ruffian): it's very good, but not very easy to get into. Nowadays it is hard to summon the patience to absorb a whole album by a band you don't already know, let alone one like Phosphenes that comes with a few features likely to make too many listeners click the "next" button. Musically, things are only slightly difficult. Imperial China offer up a very good-sounding mix of basic rock instruments and electronics, reminiscent at times of bands like Battles or the electronica of recent tastemaker-faves Fuck Buttons. The songs are sinewy and tense, tight but short on hooks, rarely too concerned about rocking out. This isn't NPR rock, but it isn't really extreme, either. The recording sounds great, although, as a guitarist, I must say that the only instrument that really stands out is the guitar, which isn't too technically complicated, but sure has awesome effects. The electronics are pretty solid, occasionally adding unexpected twists like Radiohead-esque chilly background drones in "Letter of a General" and unsettling chimes on "The Last Starfighter" that remind me of the weird "Lullaby version of Tool" that my brother once used as a rough soundtrack to a film. It's also pretty well steeped in DC rock tradition, from Fugazi to Frodus, and bears a lot of hallmarks of producer Devin Ocampo (from Faraquet/Medications/etc.).
Musically and sonically, Phosphenes grabbed me right away, but the thing that took me a few listens to come around to was the vocals. It's not that they're bad at all, but I think they are an acquired taste. On my first listen to the album, my favorite song was an instrumental, "Mortal Wombat." The singing is just trying to do way too much, and the songs depend too much on vocals that aren't as good as the music. The singing sounds best at its most melodic, as on the other first-listen highlight, the pop song of the record, "Go Where Airplanes Go." Whereas the vocals are at their worst when they are kind of spat-out and shouted, as on the opening track, "All That Is Shouted."
But what I realized after a couple listens was that the singing, while not amazing, is actually doing a lot of very cool things. There is D. Boon-style patter on "Invincible," Tim Harrington hollering on "Bananamite," and creepy crooning on "A Modern Life" that sounds an awful lot like singer/winemaker Maynard James Keenan. It's pretty fun to notice this stuff, and I gradually came around a bit to the vocals, on the whole. The lyrics seem about what you'd expect from this kind of music, all quite appropriate for a DC band. (And by the way it is nice to just think that there are "DC bands" in the heritage of the '90s scene that I loved so much.)
I hope enough people can get past mildly-challenging music and mildly-weak vocals to listen to the whole record, because it is nicely arranged into a whole. The whole thing twists and teases, keeping you on a sinister edge, refusing to really lead you anywhere. It's deliberately frustrating. Even the killer closer track, "Letter of a General," starts to build up and build up in traditional rock and roll style, then — well — sort of deflates. This isn't an album that is interested in just giving out rewards — you have to earn them through a little work of your own. I can appreciate that, and hopefully some other people will too, because this is one of the better albums by local bands to come out in the past few years.
Here are my favorite songs… enjoy, and go see this band when you can, and here is their myspace page where you can support them and buy stuff.
Audio clip: Adobe Flash Player (version 9 or above) is required to play this audio clip. Download the latest version here. You also need to have JavaScript enabled in your browser.
Audio clip: Adobe Flash Player (version 9 or above) is required to play this audio clip. Download the latest version here. You also need to have JavaScript enabled in your browser.
Audio clip: Adobe Flash Player (version 9 or above) is required to play this audio clip. Download the latest version here. You also need to have JavaScript enabled in your browser.
P.S. if you don't know what "phosphenes" are, look it up. This is a cool word, and I wonder how long it's been on the band's radar. I kinda wish the band was called Phosphenes instead of the album…