Bit of a downtime for rock shows here… I have made an effort but to little avail. I went to the Black Cat last week to see Zomes but stupidly got there too late. I went to Lamont Park a couple weeks ago to see Hume and Janel and Anthony but the show was cancelled. So instead I have mostly been biding time until finally seeing Motörhead this week. I'll discuss that shortly.
But while clearing out photos on my phone thought I'd share a picture and a couple comments about some random live music I saw last weekend in New York. First the photo: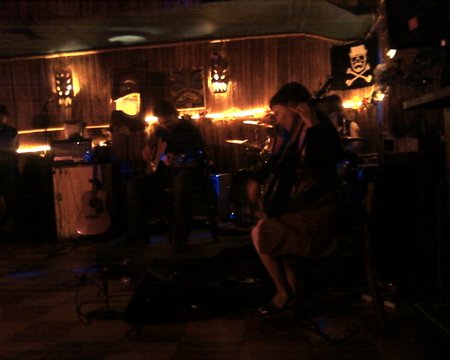 One of the things I like about New York is the sheer number of talented people everywhere. I was in a random bar (Otto's Shrunken Head) on Sunday night and heard live music coming from the back room, and eventually went to check it out. There was a diverse line-up of bands and musicians, of which I saw the last couple. The final band was introduced as "Acid Rays" but I asked the guitarist afterwards to confirm the name, and he said they "used to be" Acid Rays but changed line-up and dropped the singing so it wasn't a definitive sort of thing. Anyway they were pretty good for a random 1 a.m. band: acoustic guitar through effect pedals, a cellist/violinist who played electric cello and electric violin (and I have never even seen an electric cello before!) and a drummer. Good stuff.
I was thinking of the line from the back of Yo La Tengo's Electr-o-pura where, among various absurd notes for each song, they say: "One of My Favorite Instruments-The Electronic Flute."