I have gotten steadily more into experimental music over the past decade or so, entering the genre via post-hardcore and Sonic Youth-style experimental rock. I don't go to see live experimental stuff as often as I'd like, though there is a fairly thriving experimental scene in DC. For one thing, it's hard to drag along friends to watch people make droning noises for half an hour.
Last Friday, 5/8/09, I went to the Warehouse to check out the DC Listening Lounge's Sound Scene show called "The Human Body." It was a good show of audio installations and experiments, with a number of solid performances. I didn't see all the live music, but managed to be impressed by a couple performers. One was a group going by the name of Black Snake in the Daisy Patch. The promo website for the event described them as "meld[ing] acoustic instruments (guitar, banjo, harmonium, cello) and found sound samples into a beautiful and compelling musical collage." A guitar-violin-xylophone (??) trio, with some other instruments thrown in, they reminded me and my friends somewhat of The Books. They were pretty great especially considering they apparently composed the whole thing the day of the event.
I also caught a performance by Janel and Anthony which was overdue — they've been playing around town for at least a few years and I have been too lazy to see them. It's too bad I've been so negligent, they were great. Cello and guitar but not in a boring folky way, with some distorting effects from time to time. I liked them a lot. Check them out via myspace.
Here's a cell phone shot of Black Snake in the Daisy Patch: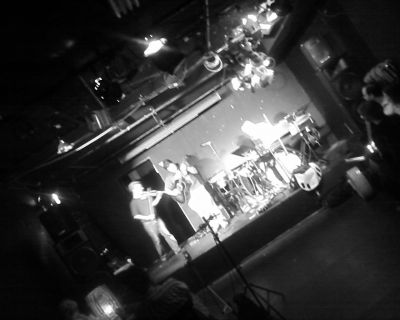 Sadly I missed the other performances. I'll do my best to make it out to more events like this in the future…