I'd been wanting to see Baltimore's Double Dagger for a while… love a few of their songs, love that they were calling themselves "graphicdesigncore", love the song titles ("I Was So Bored I Wanted to Hang Myself on the Dance Floor" is particularly good). And the last time I was at a show at Crooked Beat was to see Human Bell a year or so ago, and it was one of my favorite shows in a long, long time.
But I was a little underwhelmed by Double Dagger. It might have been the sound mix (vocals too low), it might have been the new material which I was unfamiliar with. But mostly it was the fact that I have seen so many similar bands, and I wasn't blown away by these guys as much as I am by, say, Lightning Bolt. Nonetheless, they were pretty rad and energetic and I think I probably would have loved them more when I wore a younger man's clothes.
They have a new record on Thrill Jockey and they joked about how they were "post-rock," even though they had never listened to Tortoise. Ha. Have to admit they are not a typical Thrill Jockey band, but I still hold out a lot of hope for these guys.
Here's a poster (via thatnolenguy, the designer?) —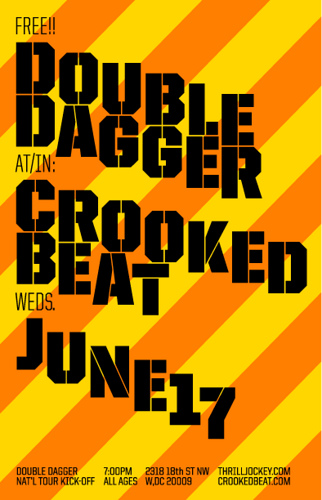 And here's a terrible cell phone pic: