My friend Yulia had a photo show at the DC Photo Co-op in Shaw, and she invited the local band the Cornel West Theory to perform. They were nice enough to accept.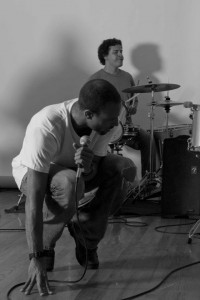 I had seen these guys once before at the Sockets Showcase, and I liked them well enough. For the photo show, they put on a smaller-scale performance, just drums and bass and two vocalists. It was really good! Better than I expected, honestly. The sound was not that great (the vocals never really were able to get loud enough), but I was impressed by these guys' energy and dedication to the performance, even in front of a small crowd.
I think maybe the first time I saw them, I'd been too tired to really get into it. But maybe the stripped-down version was actually objectively better anyway. At some point I will see them again and make a more definitive pronouncement. Anyhow they all seem like great people and I will keep cheering them on.