Even drones can fly away
The saga of monodrone.org
For a number of years in the mid-2000s I tried to maintain a blog at the site monodrone.org. This was a WordPress website in the early days of WP, around the time that blogging was becoming a thing. I taught myself a lot about web design of this era and built up a weird-but-rad site design theme inspired by the art of people like Mucha and Grandville.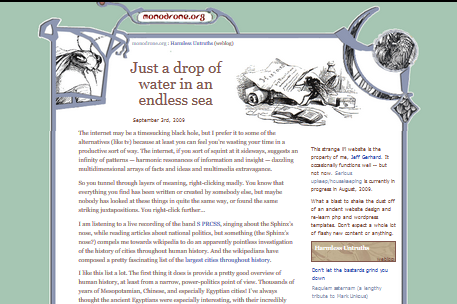 It was a lot of work, and I didn't always have a lot to say. It slipped away. I left it up on the internet for years with the intent of archiving it and retiring it. That date finally came in late 2016 when I shut down the WordPress site and built an archive here at my eponymous domain.
What's a monodrone anyway?
"Monodrone" is the name of a song I wrote a long time ago. I was't too concerned about whether it was a real word or not; I meant for it to convey the background noise of daily life. Years later, when I built out the website, I searched around the web for the word "monodrone" and found that it did have another meaning.
A monodrone, you see, is the name of an odd Dungeons & Dragons monster. It is one of a class of weird semi-sentient creatures called modrons. They look like this: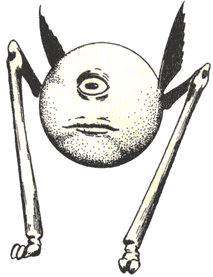 One D&D site describes monodrones as "the faceless, countless hordes of Mechanus. Within the clockwork mazes of this plane of ultimate order, the monodrones perform all of the tedious but vital tasks necessary to keep the gears turning… One will often see monodrones scrubbing gears or otherwise performing maintenance…" etc., etc. Cool! I feel like such a bizarre creature was an okay thing to share my website's name with.
Besides, I have a soft spot for strange creatures whose names begin with the prefix "mono." In addition to monodrones I have always been a big fan of Narnian monopods and real-world monotremes.
On archiving this site
In late 2016, I began putting together a new blog called Introspect and a hand-rolled blogging system called spect. Midway through implementation, I thought of a way to integrate my old websites into the new system. This is not 100% finished yet, but all the old pages from the original WordPress installation are now available on this domain. I intend to write up my methodology in a new blog post once I finish compiling some other archives.
Table of Contents
Here is the list of all the published posts on monodrone.org. Some of the content (particularly audio files) still needs to be cleaned up but all the text should be intact. Happy digging!
| Date | Title | Tags |
| --- | --- | --- |
| May 23rd, 2010 | Don't let the bastards grind you down | audio, computers, music, recording |
| March 8th, 2010 | Requiem æternam (a lengthy tribute to Mark Linkous) | mark linkous, music, religion, rip, sparklehorse |
| September 3rd, 2009 | Just a drop of water in an endless sea | dust in the wind, history, music, philosophy, politics, stoicism |
| September 2nd, 2009 | Patriotismo | ir, mexico, photography, politics |
| August 16th, 2009 | Aging Rock Stars | music, poetry, rockstars |
| August 11th, 2009 | Poetica/Poem Jam | heinrich heine, literature, metallica, music, pearl jam, poetry, sylvia plath |
| August 7th, 2009 | Q and Not U | alphabet, dc, english, etruscans, language, music |
| June 17th, 2009 | It's been swell, but the swelling's gone down | emusic, mp3s, online music |
| May 26th, 2009 | The persistence of Memorial Day | holidays, life, memorial day, music, war |
| April 15th, 2009 | Tempest in a teapot | politics, protest |
| February 12th, 2008 | Brave/cold front | life, music, winter |
| February 5th, 2008 | Dash 7 vs. Do the Lovers Still Meet at the Chiang Kai-Shek Memorial? | harmonies, the van pelt, wilco |
| January 31st, 2008 | Soldiering onward | |
| January 31st, 2008 | Epicycles | physics, sutures |
| January 28th, 2008 | Message in a bottle | |
| December 22nd, 2007 | Ho ho ho. | christmas, holidays, life, music |
| November 15th, 2007 | 4NX¢ | ir, politics, public diplomacy, school |
| November 13th, 2007 | Have you any dreams you'd like to sell? | fleetwood mac, john lennon, life, music, stevie nicks |
| September 14th, 2007 | A more perfect union | constitution, holidays, politics |
| September 10th, 2007 | Swiftly tilting | literature, madeleine l'engle, politics, school, science fiction |
| August 21st, 2007 | Iron Man | cal ripken, ir, politics, public diplomacy, sports |
| August 14th, 2007 | Just play another chord | astrology, life, music, philosophy, stoicism |
| August 6th, 2007 | It's all about the healing | original music, sutures |
| June 2nd, 2007 | Midlife crisis | life, tattoos |
| June 1st, 2007 | Somehow the vital connection is made | art, maps, nina katchadourian |
| May 31st, 2007 | A borrowed poem | life |
| May 18th, 2007 | i was born a long time ago today | birthday, drinking, life, music |
| May 14th, 2007 | Tricenarian (I) | life, music, tricenarian |
| April 27th, 2007 | I'm all washed out | lyrics, music, ween |
| April 17th, 2007 | Too much confusion today | death, tragedies |
| April 12th, 2007 | So it goes | life, literature, vonnegut |
| April 5th, 2007 | The Death of the Bee | bees, death, life, random |
| March 23rd, 2007 | I want to believe | inspiration, music, ted leo |
| March 22nd, 2007 | Paradigms | humor, random |
| March 9th, 2007 | Ailing | life, sickness |
| February 22nd, 2007 | screenshots | chimps, random, sleater-kinney |
| February 15th, 2007 | Wide awake in America | iraq, politics, war |
| February 5th, 2007 | Solid | original music, sutures |
| January 28th, 2007 | Pretend These Are Records | original music, pretend these are records, the orcas |
| January 10th, 2007 | Self-portrait with Tesla | amusing, power ballad, self-portrait, tesla |
| January 8th, 2007 | Blowing smoke, or, What is this burning in my eye? | dc, politics, smoking |
| January 4th, 2007 | The year in rock | live music, music |
| December 29th, 2006 | Absolutely nothing's changed | holidays, life, music, new years |
| December 11th, 2006 | Addicted to the sound | life, music, online music, the internet |
| December 5th, 2006 | I always wanted to… | amusing, original music |
| December 5th, 2006 | Left Behind | original music, sutures |
| December 4th, 2006 | Fully Operational | audio, life, original music |
| April 28th, 2006 | The awesomeness of art in the age of mechanical reproduction | art, websites |
| April 23rd, 2006 | All work and no play makes Jeff something something | life, mp3s, music |
| April 21st, 2006 | Speaking as a child of the '90s | bands, music, pearl jam |
| October 31st, 2005 | October All Over vs. Time Jesum Transeuntum Et Non Riverentum | halloween, harmonies, holidays, nick cave, unwound |
| October 17th, 2005 | Civil War Correspondent vs. Down There Low | harmonies, pj harvey, scianka |
| September 19th, 2005 | Anything with "dark" in the title is guaranteed to be good | art, europe, websites |
| September 16th, 2005 | Josef Lada | art, jaroslav hasek, josef lada, literature |
| September 13th, 2005 | White Spaces | maps |
| August 29th, 2005 | Equus vs. Vertigo | blonde redhead, harmonies, u2 |
| August 23rd, 2005 | Trying times | xword |
| August 22nd, 2005 | A morass | xword |
| August 21st, 2005 | Xers | xword |
| August 20th, 2005 | Loping and Lopping | xword |
| August 18th, 2005 | Beam Weapon | xword |
| July 13th, 2005 | Little Electronic Boxes | ipods, life, music, science fiction, technology |
| June 5th, 2005 | Welcome to my nightmare | life, monodrone.org |
| May 31st, 2005 | Arpeggiator vs. 2 Rights Make 1 Wrong | fugazi, harmonies, mogwai |
| May 31st, 2005 | Eurotrash Girl vs. Ballad of the Sin Eater vs. Absinthe Party | cracker, harmonies, minus the bear, ted leo |